Congrats to our discovery Marjan, she did an amazing job at all the Fashion Weeks @ Londen, Milan & Paris.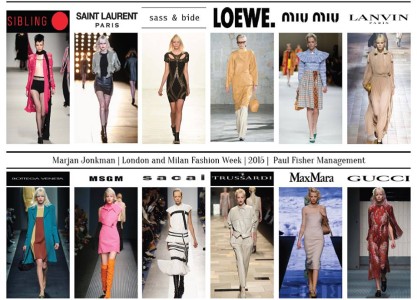 ---
Marjan for Spring 2015 Memorable Moments by Models.com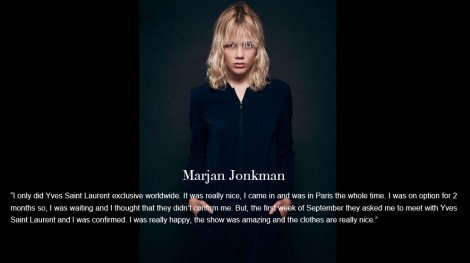 Original article taken from: http://models.com/mdx/memorable-moments-spring-2015/
---
Marjan for the new Saint Laurent Campagne SS15
SAINT LAURENT SPRING SUMMER COLLECTION PART 2 WOMEN AND MEN PHOTOGRAPHED IN LOS ANGELES IN OCTOBER 2014
KIKI IS 18 YEARS OLD FROM AMSTERDAM AND PART OF THE EXCLUSIVE SAINT LAURENT MODEL CABIN. SHE OPENED THE SAINT LAURENT "70'S SHOW" IN OCTOBER 2014. JAMES IS A GUITARIST FROM LOS ANGELES AND WAS STREET CASTED BY HEDI IN THE SUMMER OF 2014. MARJAN IS 20 YEARS OLD FROM AMSTERDAM AND ALSO WALKED EXCLUSIVELY FOR THE SAINT LAURENT SS15 SHOW.
---
VOGUE ITALIA FOCUS ON MODELS: MARJAN JONKMAN
Every week Marilena Borgna focuses on a model, this week she turned her eyes to beautiful Dutch twenty- year old Marjan. Read Marjan's full interview with Vogue it below: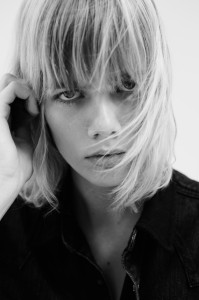 Name Marjan Jonkman
Born/Live in Sint Nicolaasga (Little town in the north of the Netherlands)
How did you start modelling? A girl asked me to do a photoshoot and a catwalkshow with her own made clothes for her fashionstudy. First I said no because I thought I didn't like to be a model. But I did it and I really liked it! A few months later Margreet scouted me on Facebook and I signed a contract with her.
Describe what fashion is for you… Fashion is one of the most important things in my life. It makes me different than other people (wearing different clothes).
Your favourite fashion designer? Hedi Slimane (designer of Saint Laurent) of course! He is amazing and I am in love with all his clothes. It was a dream that came true when I heard that he wanted me exclusive for his fashion show.
Your favourite Icon/TopModel? Doutzen Kroes! She is also from the north of the Netherlands! I like her because she still acts like normal person. She would never act like: look at me, I am a topmodel! I hope I will ever meet her.
Describe your Style. Rock and Roll! I love to wear dark clothes with skulls on it, or jumpsuits. And I love plateau shoes.
Your biggest dream? To become a topmodel like Doutzen Kroes.
Favourite film/book/song? I'm yours (Jason Mraz). This song is always making me happy. When I hear this song, I start thinking about my friends from highschool, we sang this song a lot of times together. We are still good friends but I don't see them a lot anymore because of modeling.
What is your favourite type of food/dish? I love salads! A few years ago I would never say that, but when I started modeling I wanted to eat more healthy and now I like it a lot. And I also like chocolate of course!
3 things you would bring to a desert island? 1. My mobile 2. Chocolate 3. My best friend Marike
What do you LOVE the most? Travelling.
Original article taken from Vogueit.com: http://www.vogue.it/en/shows/focus-on-models/2014/12/marjan#ad-image
---
Anke for Gemo France!
---
Next